Fast Buds Blue Dream Autoflower Seeds
| | |
| --- | --- |
| Parameter | Value |
| Taste | Cherry, Berry, Lemon, Pine |
| THC | Up to 22% |
| CBD | < 1% |
| Harvest EU Indoor | 450 – 600 gr/m2 |
| Harvest US Indoor | 1.5 – 2 oz/ft2 |
| Harvest EU Outdoor | 60 – 250 gr/plant |
| Harvest US Outdoor | 3 – 9 oz/plant |
| Size | XL |
| Height | 70 – 110 cm |
| Height US | 28 – 43 inches |
| Flowering | 9 – 11 weeks |
| Room | Indoor/Outdoor |
| Gender | Feminized |
| Genes | Sativa 75%/Indica 25% |
| Genetics | Blue Dream Auto |
| Autoflowering | Yes |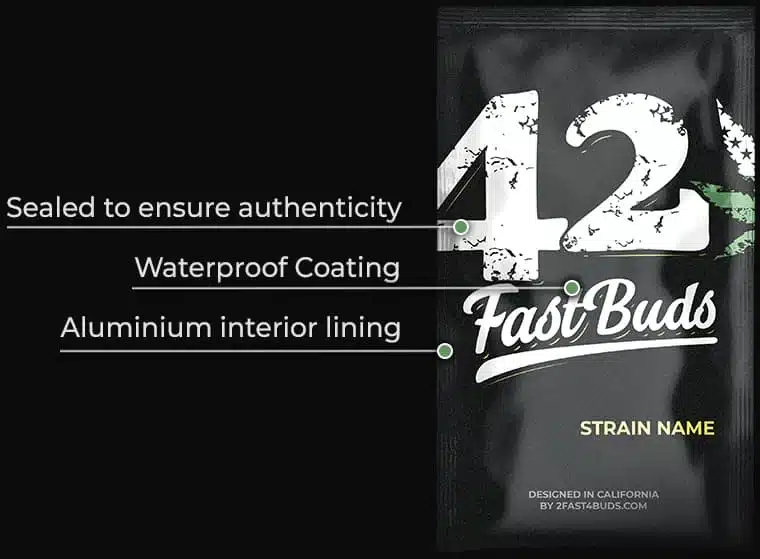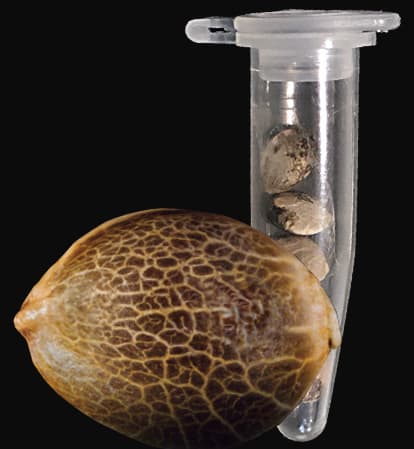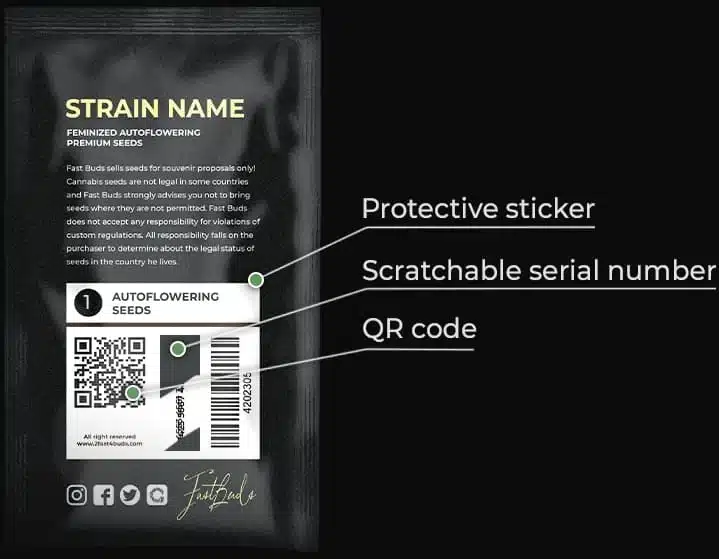 Blue Dream-Matic Autoflowering Cannabis Seeds
Blue Dream Auto – What Cannabis Dreams Are Made Of.
Extremely productive. Expect up to 600gr/m2 of buds that will be glistening in trichomes.
A monstrous Sativa. Being approx. 75% Sativa, this plant will grow up to 110cm with an insanely long main cola and side branches.
Ideal for commercial growers. A great choice for those looking for potent and high-yielding plants that produce exquisite resin.
Unique bag-appeal. The buds boast a beautiful mix of green and purple hues with thick orange pistils.
Guess the terps! The delicious tropical terps with floral hints will keep you guessing at every puff.
The sativa dominant hybrid Blue Dream is a staple of the US west coast cannabis scene. The original was a cross between Blueberry, a popular strain for pain relief, and Haze, the genetic backbone of dozens of top-notch sativas. Fast Buds' breeders took the original and combined it with our own genetics to produce a world-class autoflower Blue Dream'matic strain that smells and tastes, just like the original with an added citrus kick. Blue Dream'Matic seeds produce 'true blue' budding machine plants which deliver a euphoric, relaxing and uplifting high.
A Sativa-dominant, monster producing autoflower that's a breeze to grow. Quick growth and yields of massive sized buds of fruity and floral sweet, citrus, pine, orange, and berry terps give this strain its well-deserved great reputation. Blue Dream Auto will be ready to harvest between 9-11 weeks, producing THC rich flowers that have tested at 22% THC. Thanks to her heavy yields, this hybrid is ideal for commercial growers in search of high potent, large yielding automatics. She will also produce a large amount of top quality sugar leaf meaning extractors can prepare the trimming nets in advance. A very aromatic and fragrant strain that is best suited for beginners who want to try a Sativa-dominant hybrid.
Bud Description of Blue Dream Auto
Bulky and long appearance, with a light feel. The calyx bulge out resulting in pointy buds, glistening with trichomes. Up close, the buds are a mixture of green, purple, and thick orange hairs, and are packed together in a flurry of color. Extremely sweet-smelling and mouth-watering.
Smoke Report Blue Dream Buds
Thanks to her whopping 22% THC, her effects are powerful, upbeat, and energetic. Physical effects are light but together compliment the cerebral effects nicely. A wonderful flower to start the day with, enjoy socially with friends, long walks in nature, sunny days at the beach, musicians, artists, and for enhancing your inner creativity.
Blue Dream Plant Appearance
Being around 75% Sativa dominant, she will grow at a fast pace, throwing out a large number of side branches. Her leaves will be thin and long, and she can develop into a bushy plant in almost no time at all. Branches will grow quite thin, typical of Sativa plants, and when flowering commences can grow to a height of 110cm. A very productive autoflowering hybrid that is able to produce harvests of 450-600gr/m2, making her ideal for commercial growers. Once Blue Dream´matic is ready to harvest, she will be completely full of shimmering, resin drenched nugs that bulge from every site on the plant.
Grow Tips for Blue Dream Auto
She loves frequent watering and can take a heavy nutrient solution, with no issues at all. We advise training Blue Dream Auto out on the first 3-4 weeks, to open up the canopy as much as possible. Some minimal L.S.T will increase the amount of light that the tops will receive. Preparing a bamboo trellis, net or tomato cage is a great way to support the large buds, and prevent them from falling over with excess weight. By pruning the lower parts of the plant before blooming begins, will increase the amount of energy the plants used on its top buds, and ensure that there will be no unwanted popcorn buds forming. She can take more patience to trim, however, produces a high amount of sugar leaf, meaning hash makers will get some incredible returns after trimming.
Blue Dream seeds grow, well, like a dream. It tends to mature quickly, with plants being ready as early as nine weeks. It's a thirsty grower and a voracious eater, so don't skimp on the water and take it easy with the nutrients. Whether you're growing indoor or outdoor, with the right mix of food and water, bud production will explode, giving you a dense bush of sticky buds with an aroma of oranges and berries.
Bend stems outwards in the early stages for great consistency in plenty of bud sites, and a bountiful harvest could be ready as early as nine weeks. However, some can reach the 11th week. Go easy on the feed – about a quarter of what any product instructs.
Flavor of Blue Dream
A very delightful fruity and floral flavor, with hints of ripe cherry, orange, citrus, and pine flavors with fruit tart mixed in. Smooth and tropical terps that will keep the palette guessing after every puff. Great to share with friends as it's a truly tasty strain that anyone would enjoy.
Blue Dream'Matic's secret is a little chemical known as Limonene. Not only does this terpene give the strain a wonderful citrusy flavor and odor that the original lacked, but it also boosts the effects you receive from smoking. High limonene varieties like our Blue Dream'Matic strain offer relaxed experiences with elevated moods and very little sedation.
When these citrus notes are combined with the berry and earth notes of the original, the final flavor is mouth-watering, with a hint of pine or cedar and a tart sweetness that leaves you with a slightly dry mouth as the soothing, happy vibes take grip.
About this strain: Blue Dream
Blue Dream is a popular strain with various sources of origin. Below are several anecdotes about the strain's inception.
Origin 1: Blue Dream by Unknown
The clone-only version of Blue Dream is a sativa-dominant hybrid that was first cultivated in Northern California. A cross of DJ Short's Blueberry F5 strain and Santa Cruz Haze, Blue Dream produces several noteworthy phenotypes and is known to produce varied phenotypes with heavy yields.
Origin 2: Blue Dream by Mystic Seeds
Blue Dream by Mystic Seeds is an indica-dominant cross of DJ Short's Blueberry strain crossed with a powerful OG Kush from Los Angeles.
Origin 3: Blue Dream by DJ Short
A new Blue Dream by DJ Short was reportedly recently created and branded as Azure Haze, after crossing a Silver Haze mother and a Blueberry F4 father.
Origin 4: Blue Dream by Humboldt Seed Organization
Blue Dream by Humboldt Seed Organization is a sativa-dominant strain derived from feminized seeds. Created from a cross of Blueberry and Super Silver Haze (SSH), this version of Blue Dream is suitable for cultivating indoors or in a greenhouse.
Effects reported by people by feeling