Fast Buds Wedding Cheesecake Fastflower Seeds
| | |
| --- | --- |
| Parameter | Value |
| Taste | Sweet, Dough, Fruity, Cream |
| THC | Up to 25% |
| CBD | < 1% |
| Harvest EU Indoor | 500 – 650 gr/m2 |
| Harvest US Indoor | 1.6 – 2.1 oz/ft2 |
| Harvest EU Outdoor | 450 – 800 gr/plant |
| Harvest US Outdoor | 15 – 28 oz/plant |
| Size | XXL |
| Height | Up to 300cm |
| Height US | 100 – 120 inches |
| Flowering | 7 – 8 weeks |
| Room | Indoor/Outdoor |
| Gender | Feminized |
| Genes | Sativa 65%/Indica 35% |
| Genetics | (Wedding Cake x Cheese) x Wedding Cheesecake Auto |
| Autoflowering | no |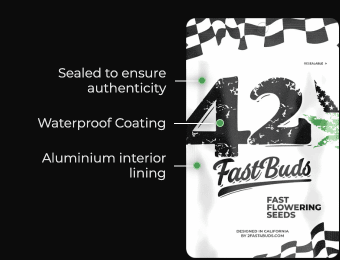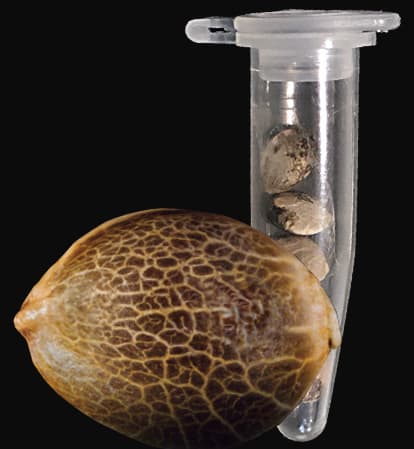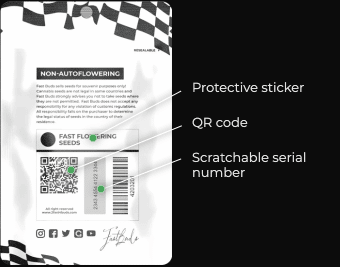 Wedding Cheesecake FF Fastflowering Cannabis Seeds
Wedding Cheesecake FF – A Slice of Cannabis Heaven.

Baking people happy. Experience exceptional creamy and cheesy flavors.
Flavorful 25% THC! A potent effect that's just as good as the delicious flavors.
Greatly resilient. Maximize yields while minimizing effort.
The best of both worlds. Perfectly balanced hybrid; refreshes your mind and body.
Perfect for extractions. Bold cheesecake terps for the most flavorful concentrates.
A treat for both the intellect and the body: Wedding Cheesecake FF (Fast Flowering) is a wonderful cultivar that produces XXL yields in 7-8 weeks. This terpene powerhouse yields a plethora of delectable vanilla-creamy-cookie-scented terps with undertones of citrus and cinnamon. This variety grows very well in both indoor and outdoor settings, generating up to 650 g/m2 without extra maintenance, making it the ideal strain for novices because it lets you to optimize yields while minimal labour. This ultrafast feminized photoperiod variant provides peppy and energetic yet deeply soothing effects, making it ideal for customers seeking a highly focused, motivational, and creative high. With up to 25% THC, it's the excellent strain for individuals looking for an additional energy boost to get their day started on the right foot.
Bud Description of Wedding Cheesecake FF
Wedding Cheesecake FF has big, large-sized buds with a thick covering of silvery-white resin and vivid orange hairs all over: it shouts 'premium'. The lime-green blossoms shine with a rainbow of colors ranging from dark to light green, magenta and purple, and reek of a delectable perfume reminiscent of fresh store-bought cheesecake. Expect a wonderfully cheesy and creamy scent with a citrus zest and a sweet nuttiness that levels out and smoothes out the smoke as you crack the buds apart.
Smoke Report of Wedding Cheesecake FF
Expect an experience that tastes as good as it smells. The benefits of this strain are more cerebral than physical, beginning with a tremendous cerebral surge that improves your mood, leaving you in a pleasant state of bliss that removes all negativity and tension. The powerful body high begins to creep up on you as you continue to smoke, putting you in a tranquil, deeply relaxing condition that takes the edge off and puts you in a serene frame of mind. Wedding Cheesecake FF provides a potent yet well-balanced blend of Indica and Sativa effects, letting you to enjoy the best of both worlds.
Wedding Cheesecake FF Plant Appearance
This is a XXL hybrid that grows extraordinarily tall, reaching up to 3m in height with one massive main cola and several long side branches that can easily tolerate high yields of up to 650 g/m2. Wedding Cheesecake FF is incredibly resistant to the weather and can be grown in nearly any environment as long as you have the space and basic necessities in place, making her a perfect choice for people seeking for large-scale harvests with a short turnaround time with little work.
Grow Tips for Wedding Cheesecake FF
This is an extremely fast feminized photoperiod variant that flowers in about 7-8 weeks and has a 5-week vegetation cycle, which means you may have faster harvests by decreasing the veg cycle or have a longer veg cycle for more yields.
Flush well during the latter weeks of harvest to enhance the exquisite creamy/cheesy tastes even more.
Wedding Cheesecake FF (Fast Flowering) should be tied down or scrogged since it generates long side branches that react very well to LST treatments and will reward you with even denser buds.
Flavor of Wedding Cheesecake FF
Wedding Cheesecake FF is a unique blend of sweet, earthy, and fruity terps that tastes like baked tart and creamy cheesecake. Expect a creamy nutty vanilla flavor with undertones of cinnamon as you inhale, filling your entire tongue with creamy bliss. And as you exhale, the creamy, nutty aromas give way to a strong combination of citrus zests with out-of-this-world floral and herb terps. Truly powerful and complex tastes that taste just as they smell and will leave you surprised with every joint draw.