Fast Buds OG Kush Autoflower Seeds
| | |
| --- | --- |
| Parameter | Value |
| Taste | Pine, Herbal, Peppery |
| THC | Up to 23% |
| CBD | < 1% |
| Harvest EU Indoor | 450 – 550 gr/m2 |
| Harvest US Indoor | 1.5 – 1.8 oz/ft2 |
| Harvest EU Outdoor | 50 – 150 gr/plant |
| Harvest US Outdoor | 2 – 5 oz/plant |
| Size | XL |
| Height | 70 – 110 cm |
| Height US | 28 – 43 inches |
| Flowering | 9 weeks |
| Room | Indoor/Outdoor |
| Gender | Feminized |
| Genes | Sativa 20%/Indica 80% |
| Genetics | Og Kush Autoflowering |
| Autoflowering | Yes |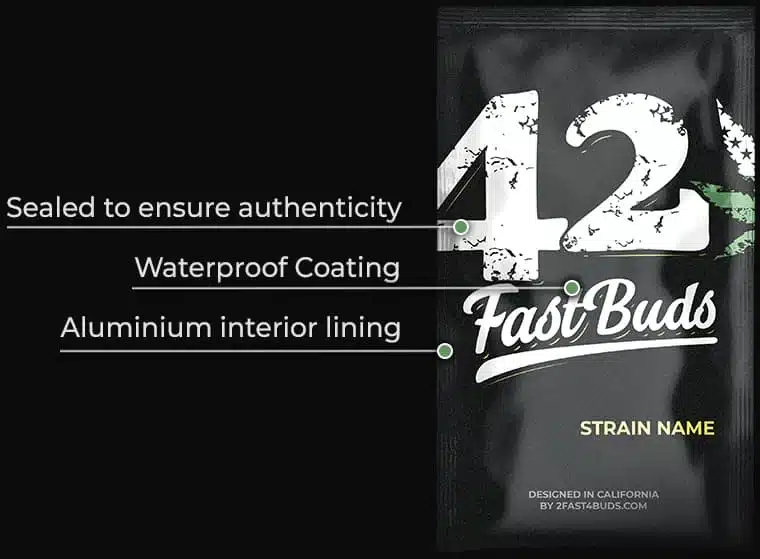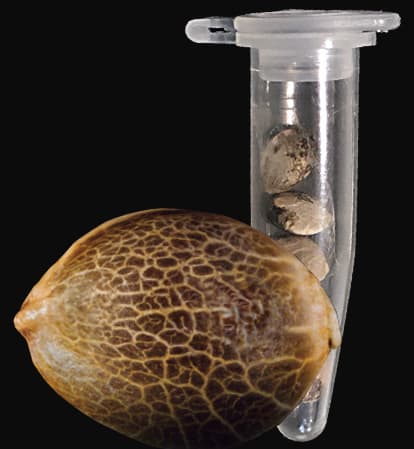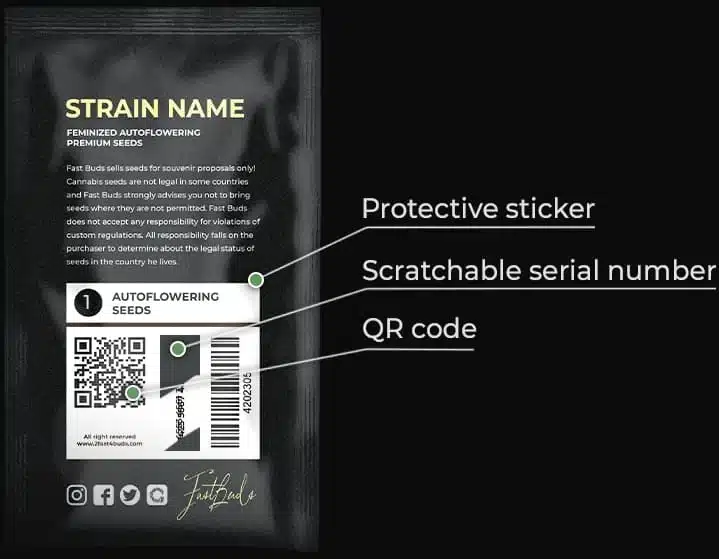 OG Kush Autoflowering Cannabis Seeds
OG Kush Auto – Next level potency and delicious Kush flavor
One-hit wonder. An extremely potent and long-lasting body high, ideal for medicinal consumers.
The original classic… but better. Thanks to her Californian heritage, expect an improved terp profile and effect.
Unbelievably resilient. Expect exceptional results in all types of climates.
First-class pungency. Reeks of an extremely loud citrus, pine, and earthy aroma.
Solid hybrid. The auto version of this old-school strain produces up to 550gr/m2 in just under 65 days.
The most powerful autoflower strain from Fast Buds Originals! She is easy to grow making her a wise choice for beginner growers. She has an extremely loud terpene profile consisting of pine, citrus with an overpowering pungency. A true expression of the world famous O.G Kush, this autoflowering hybrid will test up to 23% THC making her a contender for the strongest strain on our Original Line.
Thanks to her Californian heritage, this lady is used to hot days and cold nights so will perform with exceeding exception results in all types of climates. Due to her highly potent and sleepy effect, she is best suited for smokers with a high tolerance and those who enjoy long lasting couch lock effects.
Bud Description of OG Kush Auto
Original Auto O.G Kush will produce heavy set and dense buds that reek with a strong pine fragrance. The calyx are very dense and despite her having a smaller, bulky and stocky characteristic, her extra loud terpene profile and ridiculous potency certainly make up for it, as well as the insane amounts of frost each bud produces.
Smoke Report of OG Kush Buds
The effects of this lady are devastatingly potent and not for the light hearted. Smoking this will induce a high that is slow, heavy bodied and extremely long lasting. Too much of this strain will send you to sleep or at least feel like you are fighting that feeling off. A perfect strain for medical patients looking for therapeutic benefits or those looking to put their feet up and smoke themselves into a dream coma.
OG Kush Plant Appearance
Original Auto O.G Kush will grow with thin branching and short internodal spacing. Thanks to her indica dominance, her profile will be medium to tall sized where yields of 450-550gr/m2 can be harvested in 63 days. Her easy to grow nature makes her a perfect choice for those new to growing autoflowering Cannabis, where she will produce one main central cola, with long thin side branches.
Grow Tips for OG Kush Auto
Be careful if growing this strain outdoors, when she flowers her terpenes will really begin to stink, so be vigilant of neighbours and the aroma. It is possible to grow Original Auto O.G Kush in cold climates as she is used to the cold California night times. Thanks to her indica heritage, this lady can take a big feeding on a regular basis, so be prepared to increase the strength of your nutrient solution when growing this strain. She will require little maintenance once planted and will finish with a medium tall sized profile.
Flavor of OG Kush
The flavor can be described as profound blend of pine, citrus and a pungent earth. Kush lovers will go crazy for this lady as she coats the palate with a combination of smoky creamy citrus, and chemicals with a distinct kerosene overtone.
About this strain: OG Kush
OG Kush is a world-famous strain first propagated by Matt Berger in Florida. The strain was later popularized after Josh Del Rosso, aka JoshD, was able to perfect the growing conditions and introduce the variety into the Los Angeles market. JoshD Farms reports OG Kush users can expect long-lasting, heavy, yet versatile euphoria and skunky-citrus flavor and aroma. The company is now focused exclusively on developing OG Kush-derived strains and products.
JoshD Farms reports an average THC content of 20% from OG Kush, with some indoor grows testing as high as 26%. Myrcene, limonene, and caryophyllene are the dominant terpenes of the strain. According to JoshD Farms, phenotypes and offspring that honor OG Kush's signature effect and flavor profile include Kosher Kush, Triangle Kush, Skywalker OG, and Loompa's Headband.
Berger said he obtained the originating strain, a '90s favorite of Snoop Dogg and B-Real of Cypress Hill, in Florida where it was shared exclusively among local growers under the name Kryptonite, or Krippy. Berger, who was the first to cultivate Kush seeds from a random bag of flower, later shared the strain with Del Rosso in Los Angeles. Berger was also reportedly the first to coin the name Kush after a friend called the strain's especially frosty colas "Kushberries," with no intentional reference to the Hindu Kush mountains where other Kush strains originate
OG Kush also came in 1st place for the Weedmaps March Madness competition in 2020.
Effects reported by people by feeling