Fast Buds Gorilla Cookies Fastflower Seeds
| | |
| --- | --- |
| Parameter | Value |
| Taste | Cookie, Earthy, Kushy |
| THC | Up to 29% |
| CBD | < 1% |
| Harvest EU Indoor | 500 – 650 gr/m2 |
| Harvest US Indoor | 1.6 – 2.1 oz/ft2 |
| Harvest EU Outdoor | 350 – 650 gr/plant |
| Harvest US Outdoor | 12 – 23 oz/plant |
| Size | XL |
| Height | Up to 250cm |
| Height US | 90 – 100 inches |
| Flowering | 7 weeks |
| Room | Indoor/Outdoor |
| Gender | Feminized |
| Genes | Sativa 55%/Indica 45% |
| Genetics | (GSC x GG#4) x Gorilla Cookies Auto |
| Autoflowering | no |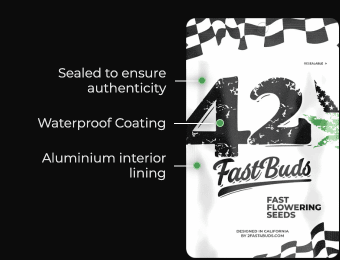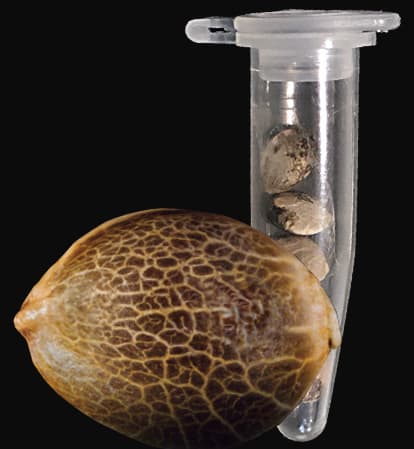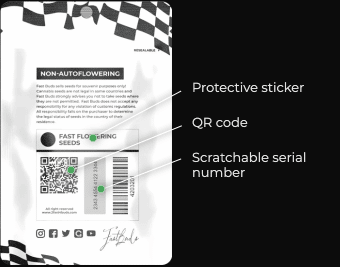 Gorilla Cookies FF Fastflowering Cannabis Seeds
Gorilla Cookies FF – The Stickiest Cookies in the Game.

Power to the grower. Have full control over your plant and unleash its full potential.
Whopping 29% THC! You've never smoked anything like it.
Extremely resistant. Ideal for those looking for potent, resilient, and easy-to-grow strains.
Top-shelf terps. Take your extracts to a whole new level.
A massive producer. Expect up to 650 g/m2!
This variety was created by combining hand-selected Girl Scout Cookies and Gorilla Glue #4 DNA with our legendary Gorilla Cookies Auto to take all of the greatest qualities from its parents to the next level. This superbly balanced hybrid thrives inside and outdoors, in all temperatures, and is highly resistant to bugs and pests. It's a big yielder that provides growers of all levels with yields of up to 650 g/m2 of top-shelf bud that never disappoints. Gorilla Cookies FF (Fast Flowering) is one of the most potent variants of these genetics, with a whooping 29% THC that converts into plenty of resin and tasty terps for the greatest extractions yet. This is an excellent alternative for hash producers searching for hard-hitting strains with amazing tastes and fragrances.
Bud Description of Gorilla Cookies FF
Gorilla Cookies FF produces incredibly resinous, thick buds with exquisite dark and light green colours that are well balanced by the brilliant orange hairs, giving them the top-shelf look that every grower desires. This feminized photoperiod strain has an insane amount of resin that gives literal meaning to the old adage "you eat with your eyes" and smells like a delicious combination of sweet fruits and cookie dough with a strong earthy background that will make your mouth water as soon as you start grinding the buds.
Smoke Report of Gorilla Cookies FF
This wonderfully matched mixture provides a powerful euphoric impact that will leave you with a broad smile on your face and chuckling at everything and everyone. As you continue to smoke, the invigorating impact gradually evolves into a powerful bodily relaxation that lasts for hours on end and will have you thoroughly relaxed regardless of where you are. With 29% THC, Gorilla Cookies FF is a must-have for cannabis enthusiasts seeking for the most powerful strains on the market.
Gorilla Cookies FF Plant Appearance
Gorilla Cookies FF, as a photoperiod, allowing you to manage its height, although it can grow up to 2.5 meters tall with a strong and bushy structure that reflects its mixed origin. This type has a thick main cola with several fat side branches that may easily handle 650 g/m2 yields. It's one of our tallest and highest-yielding plants, surprising you with its ease of growth and winning you over with top-notch resin quality that smells like delicious cookie dough and gas.
Grow Tips for Gorilla Cookies FF
This is an extremely fast feminized photoperiod variant that takes roughly 7 weeks to blossom with a 5-week vegetation cycle, which means you may have faster harvests by reducing the veg cycle or longer yields by shorter the veg cycle. Despite its tiny form, Gorilla Cookies FF (Fast Flowering) grows rather tall, so make sure you have adequate vertical space if you don't want troubles in the final few weeks of your grow cycle. It is strongly suggested to LST this strain since it will not only enable greater airflow between the buds but will also let light to reach the bottom branches, preventing mold and increasing yields.
Flavor of Gorilla Cookies
Gorilla Cookies FF is a powerful, intricate blend of sweet, kushy, and earthy flavorings with notes of fruit, citrus, and diesel. Exhale a spicy, nutty cookie dough flavor with a strong earthy backdrop that levels out and smoothes the smoke. As you exhale, the tastes open up and give way to floral and lemony subtleties that are just as tasty and will have you going back for more.